Series S/E Web Vacuum Coater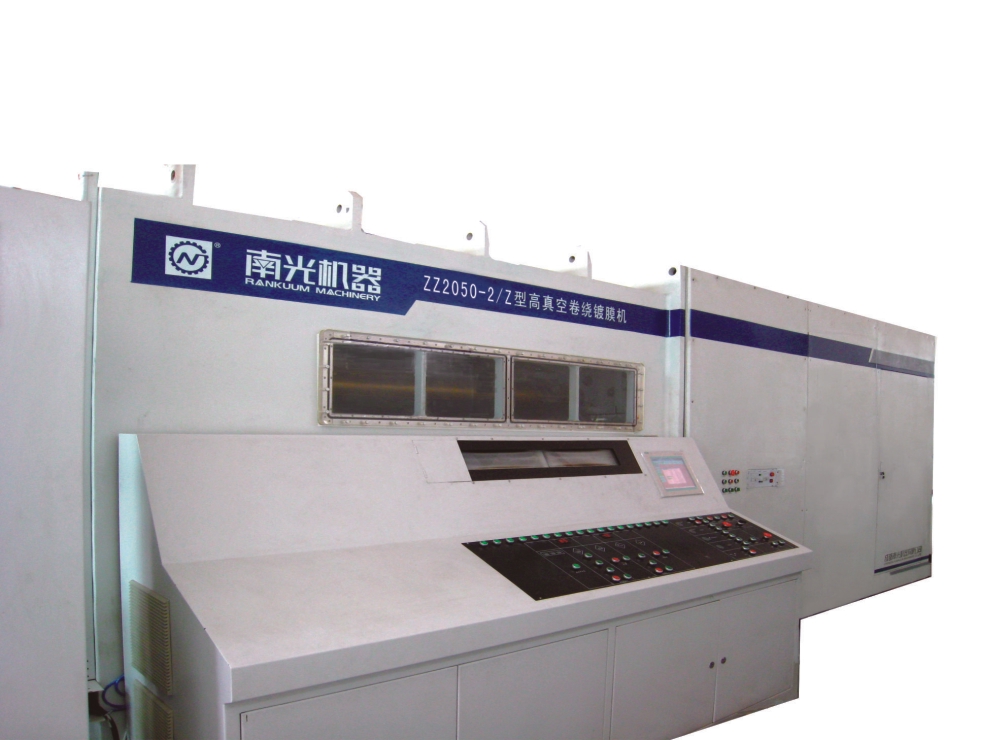 Uses and features
Specification parameter
Product application

As modern film technology develops and being widely applied in industries, production and manufacturing of films have progressed to a certain scale. As a result, continuous coil coating products of plastic film, paper, chemical fiber and textile in strips that bear sound economic and social benefits are adopted by various industries and, in forms of such every-day goods as for clothing, packaging and decorating, have entered daily life of the public.
S/E winding vacuum coater manufactured by Chengdu Rankuum Machinery Ltd and integrated with machining, vacuum, coating, auto-control, refrigeration and other technologies is a multi-functional and full automatic vacuum coating machine of winding type, capable to be used in aluminized coating of BOPP, OPP, PET, PC, PVC and other plastic films as well as paper, chemical fiber and textiles in strips.

Product features

●High-performance winding system

This system driven by four motors and employing constant tension control can perform both distance winding and contact winding.
This system is arranged with an array of winding modes for coating of different kinds of film and satisfying the technical requirements.
This system designed with a special flattening setting applicable to such plastic films as PET, OPP and CPP can render an excellent evaporation and re-winding deprived of fold, scoring and residue.

●Powerful and practical evacuation system

The system with independent winding chamber and evaporation one respectively corresponding to a set of unattached vacuum pump unit can realize the working vacuum degree required by coating within a very short time, thus improving productivity to a satisfactory extent.

●Evaporator system

This system designed with accurate and well-measured evaporation distance and space between boats can ensure good evaporation homogeneity and filming quality by employing cross installation of evaporation sources while its boats being mounted on both sides.
This system alternative of ceramic evaporator with common evaporation rate and evaporator with high evaporation rate has a maximum power of 14KVA and a maximum evaporation rate of 9 g/min.

●Cooling and heating units

The coating roller arranged with independent cooling and heating units employs oil as its special heating-conducting medium to achieve an effective cooling and avoid thermal damages to films being processed.

●Plasma pretreatment unit

This unit is to perform ion bombardment to the film surface before coating so as to remove the hydrosphere and impurities on the surface and improve adhesion and filming quality.

●User-friendly control system

The full automatic control system with a user-friendly operating interface renders manual, semi-automatic and automatic control for your choice.


E系列产品技术参数:Technical Parameters


项目
E1100
E1300
E1650
E2050
E1100-1
E1100-2
E1100-3
E1300-1
E1300-2
E1300-3
E1650-1
E1650-2
E1650-3
E2050-1
E2050-2
E2050-3
主要技术指标
镀膜宽度(mm)
550~1100
550~1100
550~1100
650~1300
650~1300
650~1300
820~1650
820~1650
820~1650
1020~2050
1020~2050
1020~2050
******卷径(mm)
800
800
800
800
800
800
800
800
800
800
800
800
镀膜速度(m/s)
2~8
2~8
2~8
2~8
2~8
2~8
2~8
2~8
2~8
2~8
2~8
2~8
蒸发舟数量
12
12
12
14
14
14
18
18
18
22
22
22
恢复真空时间(≤5×10-2Pa)
≤10
≤8
≤8
≤10
≤8
≤8
≤10
≤8
≤8
≤10
≤8
≤8
极限真空(Pa)
≤3×10-3
≤3×10-3
≤3×10-3
≤3×10-3
≤3×10-3
≤3×10-3
≤3×10-3
≤3×10-3
≤3×10-3
≤3×10-3
≤3×10-3
≤3×10-3
设备平均使用功率(KW)
260
230
220
270
240
230
320
280
270
345
300
290
设备******用水量(m3/h)
20
20
20
22
22
22
25
25
25
28
28
28
卷绕系统
调速系统
交流变频
交流伺服
交流伺服
交流变频
交流伺服
交流伺服
交流变频
交流伺服
交流伺服
交流变频
交流伺服
交流伺服
平均方阻测厚
●
●
●
●
●
●
●
●
●
●
●
●
多点测厚系统
◎
◎
◎
◎
◎
◎
◎
◎
◎
◎
◎
◎
吹气系统
◎
◎
●
◎
◎
●
◎
◎
●
◎
◎
●
距离/接触式卷绕
●
●
●
●
●
●
●
●
●
●
●
●
蒸发源
蒸发功率(KVA)
14
14
14
14
14
14
14
14
14
14
14
14
送丝装置
统一
统一
独立
统一
统一
独立
统一
统一
独立
统一
统一
独立
蒸发舟夹持方式
两侧夹持
两侧夹持
两侧夹持
两侧夹持
两侧夹持
两侧夹持
两侧夹持
两侧夹持
两侧夹持
两侧夹持
两侧夹持
两侧夹持
丝盘重量
2
2
2
2
2
2
2
2
2
2
2
2
真空系统
蒸镀室
扩散泵
K1000
DIP50000
DIP50000
K1000
DIP50000
DIP50000
K1000
DIP50000
DIP50000
K1000
DIP50000
DIP50000
罗茨泵
ZJP-1200
ZJP-1200
WAU2001
ZJP-1200
ZJP-1200
WAU2001
ZJP-1200
ZJP-1200
WAU2001
ZJP-1200
ZJP-1200
WAU2001
前级泵(进口旋片泵)
○
SV630BF
SV630BF
○
SV630BF
SV630BF
○
SV630BF
SV630BF
○
SV630BF
SV630BF
前级泵(国产滑阀泵)
H-150
○
○
H-150
○
○
H-150
○
○
H-150
○
○
维持泵
2X-15
2XZ-15D
2XZ-15D
2X-15
2XZ-15D
2XZ-15D
2X-15
2XZ-15D
2XZ-15D
2X-15
2XZ-15D
2XZ-15D
卷绕室
主泵(进口罗茨泵)
○
○
○
○
○
○
○
○
○
○
○
○
主泵(国产增压泵)
Z-320
Z-320
Z-320
Z-320
Z-320
Z-320
Z-320
Z-320
Z-320
Z-320
Z-320
Z-320
罗茨泵
ZJP-1200
ZJP-1200
RA3001
ZJP-1200
ZJP-1200
RA3001
ZJP-1200
ZJP-1200
RA3001
ZJP-1200
ZJP-1200
RA3001
前级泵(进口旋片泵)
○
SV630BF
SV630BF
○
SV630BF
SV630BF
○
SV630BF
SV630BF
○
SV630BF
SV630BF
前级泵(国产滑阀泵)
H-150
○
○
H-150
○
○
H-150
○
○
H-150
○
○
维持泵
2X-15
2XZ-15D
2XZ-15D
2X-15
2XZ-15D
2XZ-15D
2X-15
2XZ-15D
2XZ-15D
2X-15
2XZ-15D
2XZ-15D
真空测量系统
国产
进口
进口
国产
进口
进口
国产
进口
进口
国产
进口
进口
冷冻加热系统
国产
进口压缩机
进口压缩机
国产
进口压缩机
进口压缩机
国产
进口压缩机
进口压缩机
国产
进口压缩机
进口压缩机
深冷装置
国产
进口
进口
国产
进口
进口
国产
进口
进口
国产
进口
进口
电气系统
控制系统
PLC+工控机
PLC+工控机
PLC+工控机
PLC+工控机
PLC+工控机
PLC+工控机
PLC+工控机
PLC+工控机
PLC+工控机
PLC+工控机
PLC+工控机
PLC+工控机
工控机(触摸式平板电脑)
12.1"
14"
17"
12.1"
14"
17"
12.1"
14"
17"
12.1"
14"
17"
元器件
国产
合资
合资
国产
合资
合资
国产
合资
合资
国产
合资
合资
电气柜冷却方式
风扇冷却
水冷却
空调冷却
风扇冷却
水冷却
空调冷却
风扇冷却
水冷却
空调冷却
风扇冷却
水冷却
空调冷却
设备尺寸(米)
13x8.5x3.3
13x8.5x3.3
13x8.5x3.3
13.5x8.5x3.3
13.5x8.5x3.3
13.5x8.5x3.3
14x8.5x3.3
14x8.5x3.3
14x8.5x3.3
14.5x8.5x3.3
14.5x8.5x3.3
14.5x8.5x3.3
重量(吨)
30
30
30
32
32
32
34
34
34
36
36
36
市场参考价(万元)
390
520
637
405.6
533
676
431.6
546
702
495.3
568.1
751.4
○——未配置;◎——可选择;●——已配置



S系列产品技术参数:Technical Parameters

项目
S1100
S1300
S1650
S2050
S1100-1
S1100-2
S1100-3
S1300-1
S1300-2
S1300-3
S1650-1
S1650-2
S1650-3
S2050-1
S2050-2
S2050-3
主要技术指标
镀膜宽度(mm)
550~1100
550~1100
550~1100
650~1300
650~1300
650~1300
820~1650
820~1650
820~1650
1020~2050
1020~2050
1020~2050
******卷径(mm)
1000
1000
1000
1000
1000
1000
1000
1000
1000
1000
1000
1000
镀膜速度(m/s)
2~8
2~10
2~12
2~8
2~10
2~12
2~8
2~10
2~12
2~8
2~10
2~12
蒸发舟数量
12
12
12
14
14
14
18
18
18
22
22
22
恢复真空时间(≤5×10-2Pa)
≤10
≤8
≤8
≤10
≤8
≤8
≤10
≤8
≤8
≤10
≤8
≤8
极限真空(Pa)
≤3×10-3
≤3×10-3
≤3×10-3
≤3×10-3
≤3×10-3
≤3×10-3
≤3×10-3
≤3×10-3
≤3×10-3
≤3×10-3
≤3×10-3
≤3×10-3
设备平均使用功率(KW)
260
220
250
275
235
260
320
280
300
350
310
330
设备******用水量(m3/h)
19
19
19
22
22
22
24
24
24
28
28
28
卷绕系统
调速系统
交流变频
交流伺服
交流伺服
交流变频
交流伺服
交流伺服
交流变频
交流伺服
交流伺服
交流变频
交流伺服
交流伺服
平均方阻测厚
●
●
●
●
●
●
●
●
●
●
●
●
多点测厚系统
◎
◎
◎
◎
◎
◎
◎
◎
◎
◎
◎
◎
吹气系统
◎
◎
●
◎
◎
●
◎
◎
●
◎
◎
●
距离/接触式卷绕
●
●
●
●
●
●
●
●
●
●
●
●
蒸发源
蒸发功率(KVA)
14
14
14
14
14
14
14
14
14
14
14
14
送丝装置
统一
统一
独立
统一
统一
独立
统一
统一
独立
统一
统一
独立
蒸发舟夹持方式
两端顶夹
两端顶夹
两端顶夹
两端顶夹
两端顶夹
两端顶夹
两端顶夹
两端顶夹
两端顶夹
两端顶夹
两端顶夹
两端顶夹
丝盘重量
6
6
6
6
6
6
6
6
6
6
6
6
真空系统
蒸镀室
扩散泵
KT500C
DIP12000
DIP12000
KT500C
DIP12000
DIP12000
KT630
DIP20000
DIP20000
KT630
DIP20000
DIP20000
罗茨泵
ZJP-1200
ZJP-1200
WAU2001
ZJP-1200
ZJP-1200
WAU2001
ZJP-1200
ZJP-1200
WAU2001
ZJP-1200
ZJP-1200
WAU2001
前级泵(进口旋片泵)
○
SV630BF
SV630BF
○
SV630BF
SV630BF
○
SV630BF
SV630BF
○
SV630BF
SV630BF
前级泵(国产滑阀泵)
H-150
○
○
H-150
○
○
H-150
○
○
H-150
○
○
维持泵
2X-15
2XZ-15D
2XZ-15D
2X-15
2XZ-15D
2XZ-15D
2X-15
2XZ-15D
2XZ-15D
2X-15
2XZ-15D
2XZ-15D
卷绕室
主泵(进口罗茨泵)
○
○
WH7000
○
○
WH7000
○
○
WH7000
○
○
WH7000
主泵(国产增压泵)
Z-320
Z-320
○
Z-320
Z-320
○
Z-320
Z-320
○
Z-320
Z-320
○
罗茨泵
ZJP-1200
ZJP-1200
WH4400
ZJP-1200
ZJP-1200
WH4400
ZJP-1200
ZJP-1200
WH4400
ZJP-1200
ZJP-1200
WH4400
前级泵(进口旋片泵)
○
SV630BF
SV630BF
○
SV630BF
SV630BF
○
SV630BF
SV630BF
○
SV630BF
SV630BF
前级泵(国产滑阀泵)
H-150
○
○
H-150
○
○
H-150
○
○
H-150
○
○
维持泵
2X-15
2XZ-15D
2XZ-15D
2X-15
2XZ-15D
2XZ-15D
2X-15
2XZ-15D
2XZ-15D
2X-15
2XZ-15D
2XZ-15D
真空测量系统
国产
进口
进口
国产
进口
进口
国产
进口
进口
国产
进口
进口
冷冻加热系统
国产
进口压缩机
进口压缩机
国产
进口压缩机
进口压缩机
国产
进口压缩机
进口压缩机
国产
进口压缩机
进口压缩机
深冷装置
国产
进口
进口
国产
进口
进口
国产
进口
进口
国产
进口
进口
等离子预处理
◎
◎
◎
◎
◎
◎
◎
◎
◎
◎
◎
◎
电气系统
控制系统
PLC+工控机
PLC+工控机
PLC+工控机
PLC+工控机
PLC+工控机
PLC+工控机
PLC+工控机
PLC+工控机
PLC+工控机
PLC+工控机
PLC+工控机
 
工控机(触摸式平板电脑)
12.1"
14"
17"
12.1"
14"
17"
12.1"
14"
17"
12.1"
14"
17"
元器件
国产
合资
合资
国产
合资
合资
国产
合资
合资
国产
合资
合资
电气柜冷却方式
风扇冷却
水冷却
空调冷却
风扇冷却
水冷却
空调冷却
风扇冷却
水冷却
空调冷却
风扇冷却
水冷却
空调冷却
设备尺寸(米)
14×4×2.3
14×4×2.3
14×4×2.3
14.5×4×2.3
14.5×4×2.3
14.5×4×2.3
15×4×2.3
15×4×2.3
15×4×2.3
15.5×4×2.3
15.5×4×2.3
15.5×4×2.3
重量(吨)
30
30
30
32
32
32
34
34
34
36
36
36
市场参考价(万元)
442
559
702
455
585
715
482.3
562.9
777.4
513.5
635.7
835.9
○——未配置;◎——可选择;●——已配置